Neo-FACE
About the Neo-FACE Mashine
The technical principle is high temperature thermal energy fractional micro-gasification technology.
The high temperature heat energy is introduced into the skin at a speed of 0.01s through the therapeutic
head array made of high temperature antioxidant medical alloy. The moisture of the skin at the contact point
is quickly vaporized, the heat damage zone is formed, and the repair procedure of the skin is initiated to promote collagen regeneration.
Application
Skin Renewal: facial rejuvenation, fishtail lines, cervical stripe or wrinkles around the mouth, etc.
Skin rejuvenation: pore refining, skin tightening.
Scar removal: traumatic scar and acne scar.
Postpartum repair: striae gravidarum.
Promotion Features
1. Non-invasive
2. Mini - traumatic, no bleeding
3. Mild pain
4. Small scabs
5. The probability of pigmentation is very small
6. It can be used for various skin types
7. No special care
8. Short recovery period(2 days)
9. Portable
10. No radiation interference
11. Operation is handy
12. Precision industrial control instrument
13. Full heat resistant material for handpiece
Therapeutic Cone Head
This system adopts array-type high-temperature anti-oxidation medical alloy cone head, which is safe and durable.
As shown below: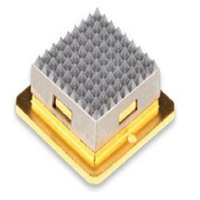 Technical parameters
| | |
| --- | --- |
| Heating mode | hot resistance mode |
| The size of therapeutic head | 10*10mm² |
| Array of Cone head | 9*9 |
| Therapeutic temperature | 385-405℃ |
| Cleaning temperature | 0-100℃ |
| Demonstration temperature | 0-80℃ |
| Depth | 100-1000um |
| Time Single | 5-18ms |
| Twice | 8-16ms |
| Cooling mode | Inverse air cooling |
| Power supply | 200-240VAC |
| Fuse | T3AH250V |
| Size | 40*25*30cm |
| Net Weight | 5kg |